Riding Gear Can Help You From Wearing Your Heart
(or other organs) On Your Sleeve
It's not how you look, it's how you feel. Christmas arrived at my front door this week by the guy all in brown.
"Mr. Pelland?"
"Lucky guess."
"Sign here."
"Hey, weren't you wearing that same outfit yesterday?"
" Uh, have a nice day, Sir."
The box contained a much overdue replacement for my beloved but aging riding gear. Although any riding gear is a great improvement over street clothes or no gear at all, having quality gear that functions just the way you want it to, in all types of situations and weather, and does so without complaint for hundreds of thousands of miles, is like finding hay in a stack of needles.
My brown box contained a new Aerostich Roadcrafter suit and a pair of Aerostich Combat Lite Touring Boots.
This new gear is the stuff dreams will be made in.
The Satin and Leather Chaps Years
In 1994, I joined my first motorcycle gang, The American Gold Wing Association.
I will never forget pulling into the parking lot of the Nights Of Columbus for the first monthly meeting. It was April, and there were quite a bit more Caddy's and Crown Vic's in the lot than motorcycles. I parked and took off my half-helmet. I was a bit nervous, after all, I was only riding a Honda Pacific Coast 800. I sat at one of the long tables next to a Goliath of a man with an even bigger grin.
He turned his head ever so slowly and said, "Well, hello, are you a new member?"
"Yeh, I signed up at the bike show in March. I hope this isn't going to be like the last gang I joined, I had to kill two people just to get a jacket."
His eyes got quite large, he hesitated, then shook my hand firm till it hurt.
"This will be an interesting year."
I later learned Paul was the Captain of the local Police Department!
Paul was usually the tail-gunner (who disappeared quite often), and every ride started with a question on the CB radio, "Nice day Huh?"
His reply was always, "Ahh yeah, any day you can ride is a good day."
Paul was one of the good guys, and now he's riding motorcycles and watching over the rest of us.
The club forced me to get pinstriping on my bike, flags on my antennas, wind-wings and leather tassles on my clutch and brake levers.
I had a CB, AM/FM/WB stereo cassette player, ditty bag pouches and a matching rear trunk.
Please do not judge me.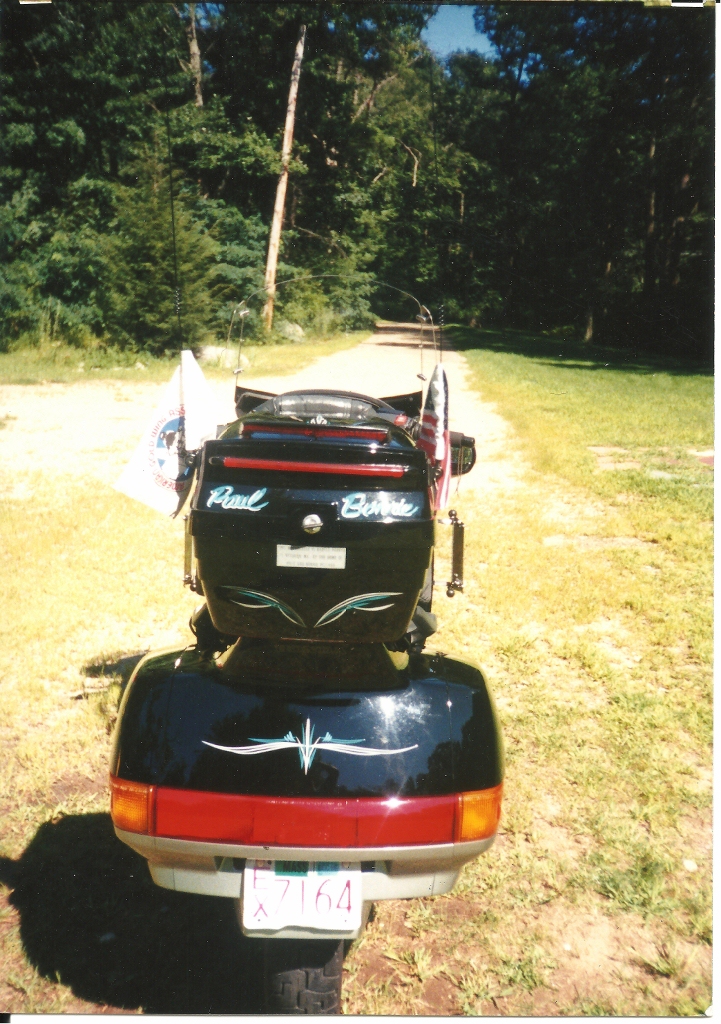 Those were the days of 50 motorcycles riding the giant slow snake down the highway, everyone in matching jackets and listening to "Ten-four Good Buddy, everyone made it to Dairy Queen. Over."
I don't think I have been passed by a car on a back road since those early days. Not that being in a club wasn't fun at times; like watching someone clean and re-clean $47,394 worth of chrome plated useless plastic bike-tackle at every gas stop while the rest of the gang had to wait.
Or, the day I earned my CB handle; about twenty of us were led into a one-pump Texaco for gas, and as we were all waiting for the next rider ahead to fill up, a gentleman in a Ford Explorer gawking at the line of bikes, ran into me. They called me Pushover after that.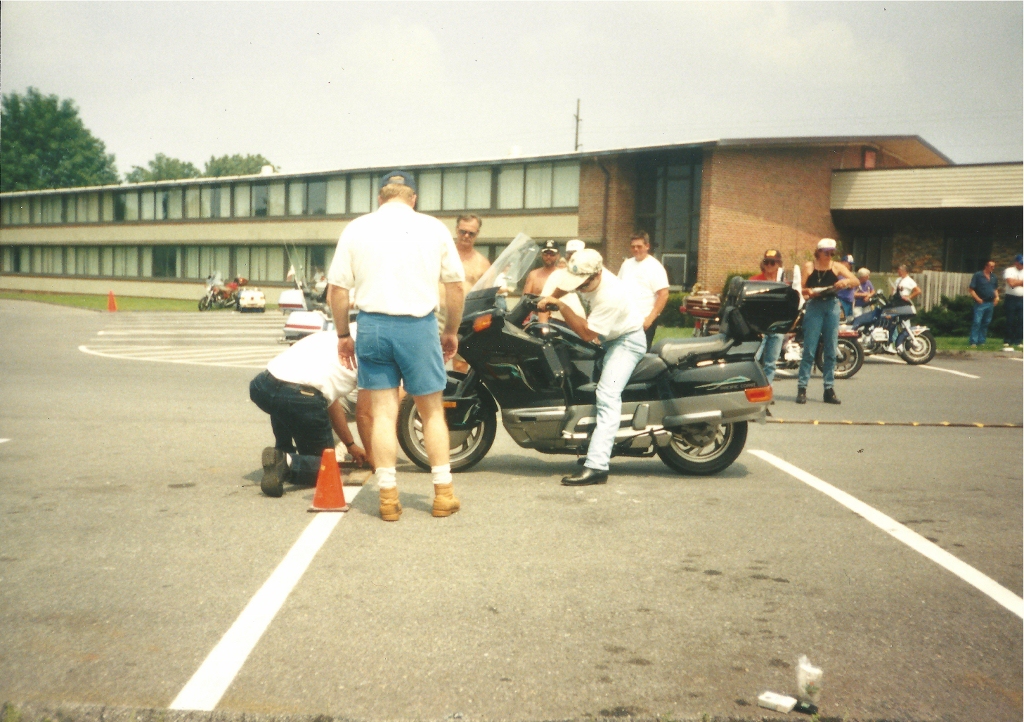 There was a riot at a national get-together in Pennsylvania after I won the slow race, I was then disqualified because I was under-age and my bike was not a Gold Wing. Soon after, I was no longer a prospect, and I had to get a real Hog. I traded the PC for a used six cylinder Wing.
I didn't know much about protective gear, we had to wear our 'colors' and represent, and my gear did not have padding. I wore a satin jacket with my name and AGWA logo embroidered on it for the Wednesday night ice cream rides, poker runs and club meetings. A leather jacket was used in the colder months, as well as a pair of leather pants I had commandeered from work. A half helmet with a zip in skirt for the winter, some gloves occasionally, and cowboy boots with thicker soles so I could touch the ground those first few years; was all I wore riding.
The beginning of the Cordura Years
After four years of drugs, murder, pilaging villages and bake sales, I turned informant and escaped the clutches of the motorcycle gang, shed my maroon satin AGWA jacket and my CHiP's two-tone half helmet. I had learned about this long distance riding thing and after reading Ron Ayres Book, "Against The Wind" and sold my GL 1500 Gold Wing. I bought a BMW, because everyone knows serious riders ride BMW's. I joined the Yankee Beemers Motorcycle club and began to experience a whole different way to ride motorcycles.
I had a Tour Master Cortech Jacket, and for the first time had some padded protection and a jacket that was waterproof. The jacket served me well, it was made fairly well and had a removable quilted liner, but I couldn't wear it in the summer as it did not breathe well, it was basically Cordura nylon( from Dupont) that had been coated on the inside with plastic. I don't know how many little Cordura animals were killed to make the jacket, but at least it wasn't cows or naugas, and it was a step up from the leather and lace.
Shortly after joining the Yankee Beemers I realized every hard core rider was wearing riding suits referred to as simply a 'Stitch', by a company called Rider Wearhouse. Aerostich has now become the trade name of the protective clothing and you won't find it sold at any motorcycle shops or dealers. To keep the costs down and the quality up, all sales are done by the manufacturer. The one or two-piece suits are called ROADCRAFTER. At the time, the suits were about $700 I think, and although it was clear they were worth every penny, I didn't have every penny. These suits were made to last, your average riders may only need one or two their entire lifetime! The material was waterproof and breathable Gore-Tex bonded to Cordura, but in a heavier, coarser weave or denier as it is called. The stress points are all covered in extra heavy duty ballistic Cordura. The knees, elbows and shoulders were all padded with a special viscoelastic TF2 or TF3 energy absorbing foam and hard shell top. The idea was simple. An abrasion resistant Gore-Tex suit, heavy ballistic nylon with top of the line craftsmanship, all made in the USA. The Roadcrafter has probably saved the skin of millions of riders and cows worldwide! It wasn't a jacket that did all kinds of tricks when you turned it inside out. It didn't have a secret hidden removable reversible hail-retardant system or flashy stripes, logos or doo-dads. It didn't even have carbon fiber flavored shelf paper knuckle inserts. It wasn't advertised as a convertible three-in-one system with removable layers, or a rain layer that you have to stop and put in after you are already wet! It was just a protective "cover-all" leaving you to decide what you needed under it. It was built tough, and had real world usable features and some pretty good venting for the summer. Although competition or racing leathers were still more protective and abrasion resistant, a ballistic nylon suit lasted longer, was washable, waterproof, breathable, cooler, and lighter. Ballistic nylon was really the only choice for every day real world long distance riding. All the real riders were wearing Aerostich, I just had to have one.
I saw an ad for a two-piece Aerostich Roadcrafter in the classified section of the "Boxer Shorts", the monthly Yankee Beemers magazine, and although the listing said the suit had been altered, I think the legs were shortened, it was only $100.00. "Well used" it said. I bought it, and the jacket fit, but the pants were about five inched too short! I didn't care. I wore the jacket. It was broken in, well broken in, I think the ad said about 100,000 miles worth, and I think he was a little short. It was solid though, I sprayed some water repellent on it, and despite the pinkish hue, it was My first introduction to quality motorcycle gear. Thank you Steve!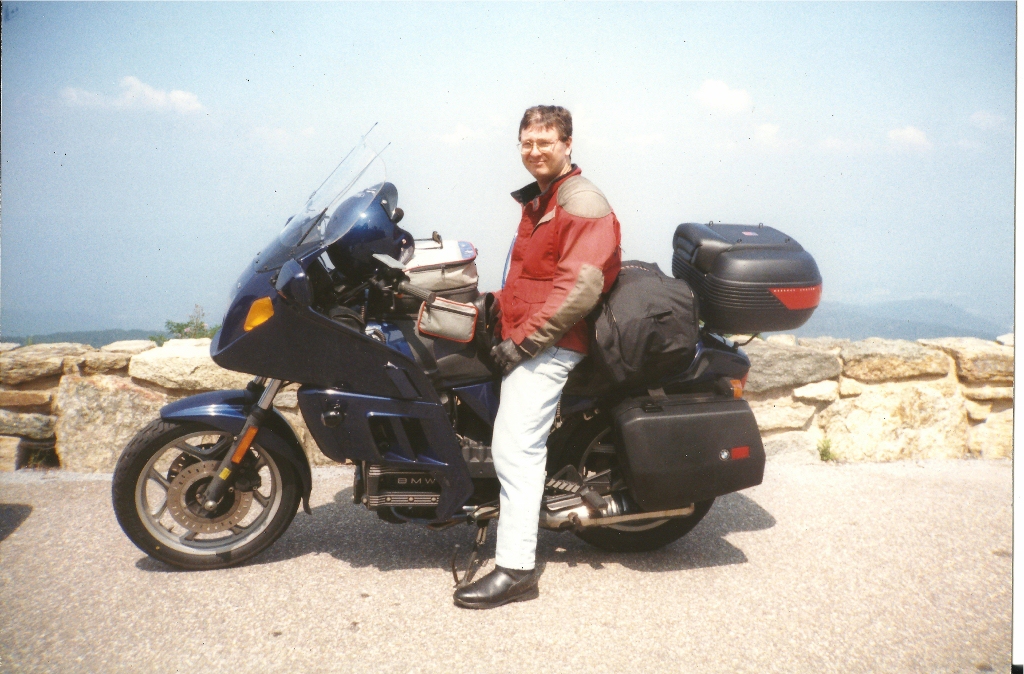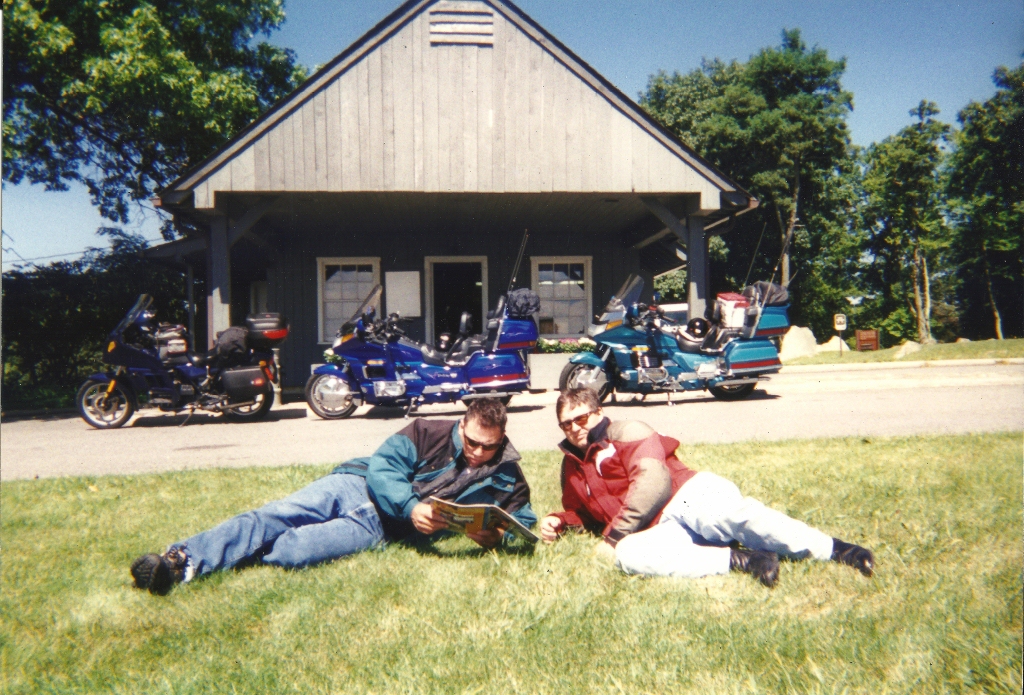 The 2002 Aerostich catalog has two pictures of me wearing this light red jacket. In the upper right corner, I am standing on a ledge with my best friend Dave on a trip to Georgia. At the bottom left corner, I am climbing a rock wall that says. "Do not Climb." Aerostich suits give you special powers.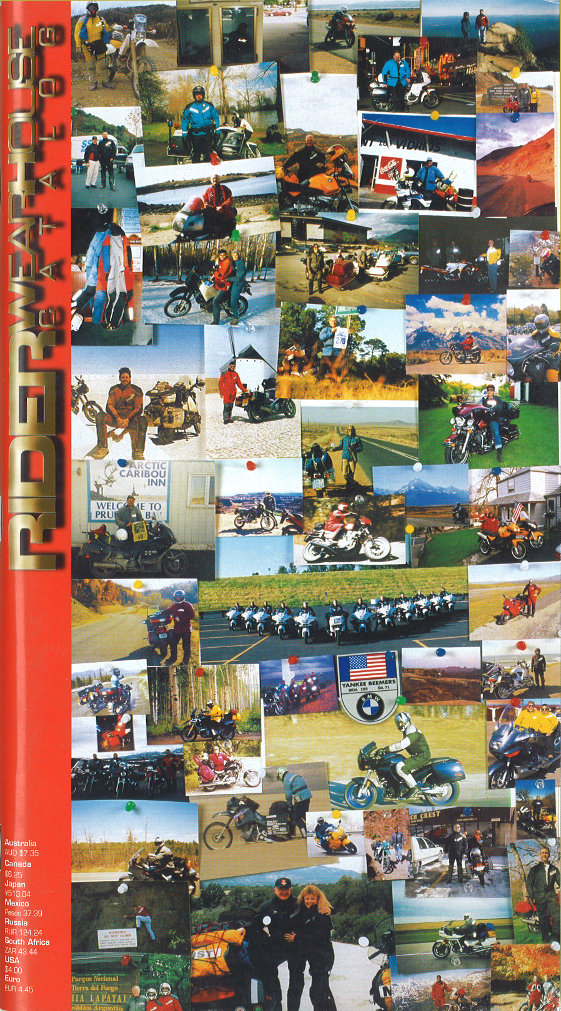 The first Roadcrafter Jacket was fine for a while, but it really was worn, and after receiving word my entry into the Team Strange 2000 Buttlite 7 day rally was accepted, I knew I had to buy some new gear. It had to be a new two-piece Roadcrafter. I wanted to be as visible as possible, so this was my choice!
As you can see from the next picture, I was already aware I was entered in the 2001 Iron Butt Rally, proudly displaying the Siberian Speed Team logo!
I broke in the suit during the 2000 Buttlite II and although my BMW never finished, The Roadcrafter and I did finish; aboard a Honda. The color either broke in a little or was just dirty after the first 50,000 miles!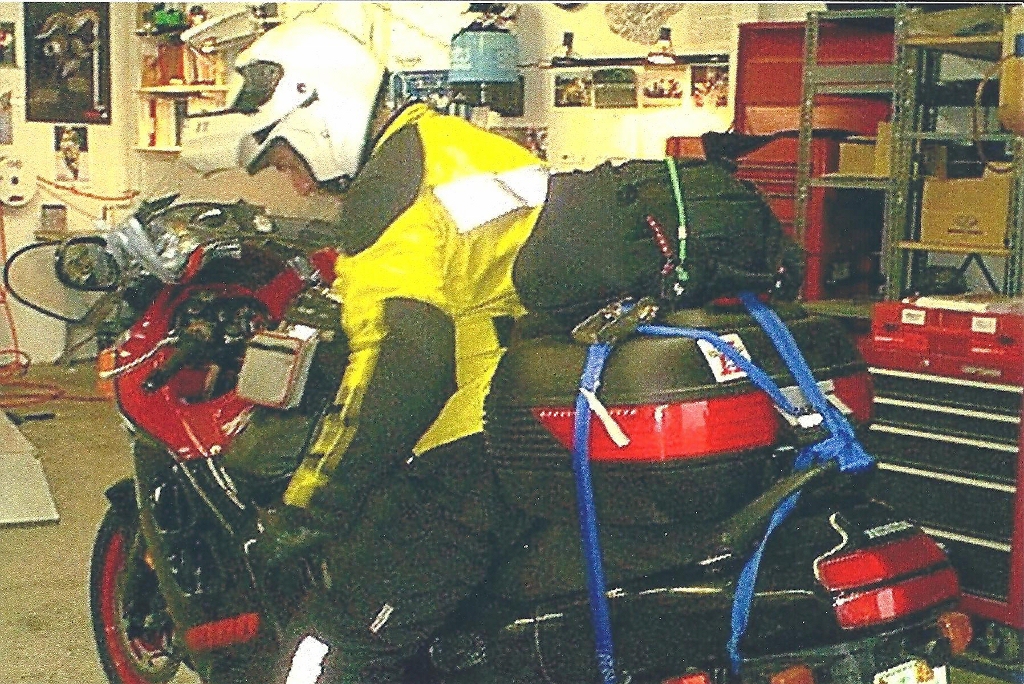 The suit was getting broken in properly and spent many thousands of miles on my back, and then on the ground as I shoveled a few Ural motorcycles across the country in 2001.
Although to the untrained eye, the next picture would seem to signify I had discovered a waterhole oasis or a beautiful woman in a red sports car signaled me to pull over and make wild passionate love to her in the rest area clover field, it just isn't so.
This picture is just another breakdown during the 2001 Iron Butt Rally. The Dooney and Burke purse is mine, I used it for tools!
Although it would appear I was being abusive to the expensive suit, this method is actually listed in the break-in procedure. As any gentleman would, I often used it like a carpet or picnic blanket to hold my tools and parts from falling in the dirt. I had no problem jumping to the ground, laying in the street or dirt to fix something under the bike. Like a long time friend, there was always trust. Trust it would dust off and zip up, and protect me once again.
A riding suit is used to protect us from road hazards and to cushion the fall in accidents. If it is made well, and tested, and you like it enough to wear it all the time, there will come a time, a day, a split-second when it has to do it's job. All the pretty clothes in the world aren't going to do squat when life is passing before your eyes in the classic "Oh shit" moment!
Mine moment was on a highway in Arkansas, at freeway speeds, my overloaded underpaid Russian camel decided to spit me off.
(From the story, Against a Slight Breeze) "Fully overloaded with tools, spare parts, clothes, food, extra fuel, maps and rosary beads, I had noticed the front end of the bike getting a bit wobbly more and more. Sometime mid morning in Arkansas I hit a series of dips in the highway, and the front end just went loose. Within seconds it turned into a tankslapper (Not to be confused with a knee slapper). It started with a little wiggle, and then the rear end of the bike started waving like a door on a hinge. I knew I was in trouble when I looked to to my left and saw my own ass. I tried to stabilize the violent flapping, but knew it was not going to be pretty. I prepared to crash. With sphincter contracted, I aimed towards the breakdown lane, and that is where the bike decided to spit me off. I tumbled and slid a bit, but not nearly as far as the bike. I watched in seemingly slow motion as it slid down the travel lane. Rich, colorful sparks, unlike any of those Japanese bikes could create, were lighting up the highway. After I came to rest, I did not move for a minute or so, long enough for a trucker to stop and run over to me and ask me if I was ok. I kept thinking about something I learned from a First Aid class, "Don't remove your helmet, Paul, your brain will fall out."
Slowly, I systematically attempted to operate all my limbs and head, realizing I was possibly ok. No broken bones. My Aerostitch riding suit had saved my ass. I had some pain in my knees, elbows, ribs and shoulder, and it got a little bit worse within the hour, but I had survived!
I ached over to the bike and shut off the key. The bike was facing the wrong way in lane one. I lifted the bike up, and wheeled it to the shoulder. What a mess!"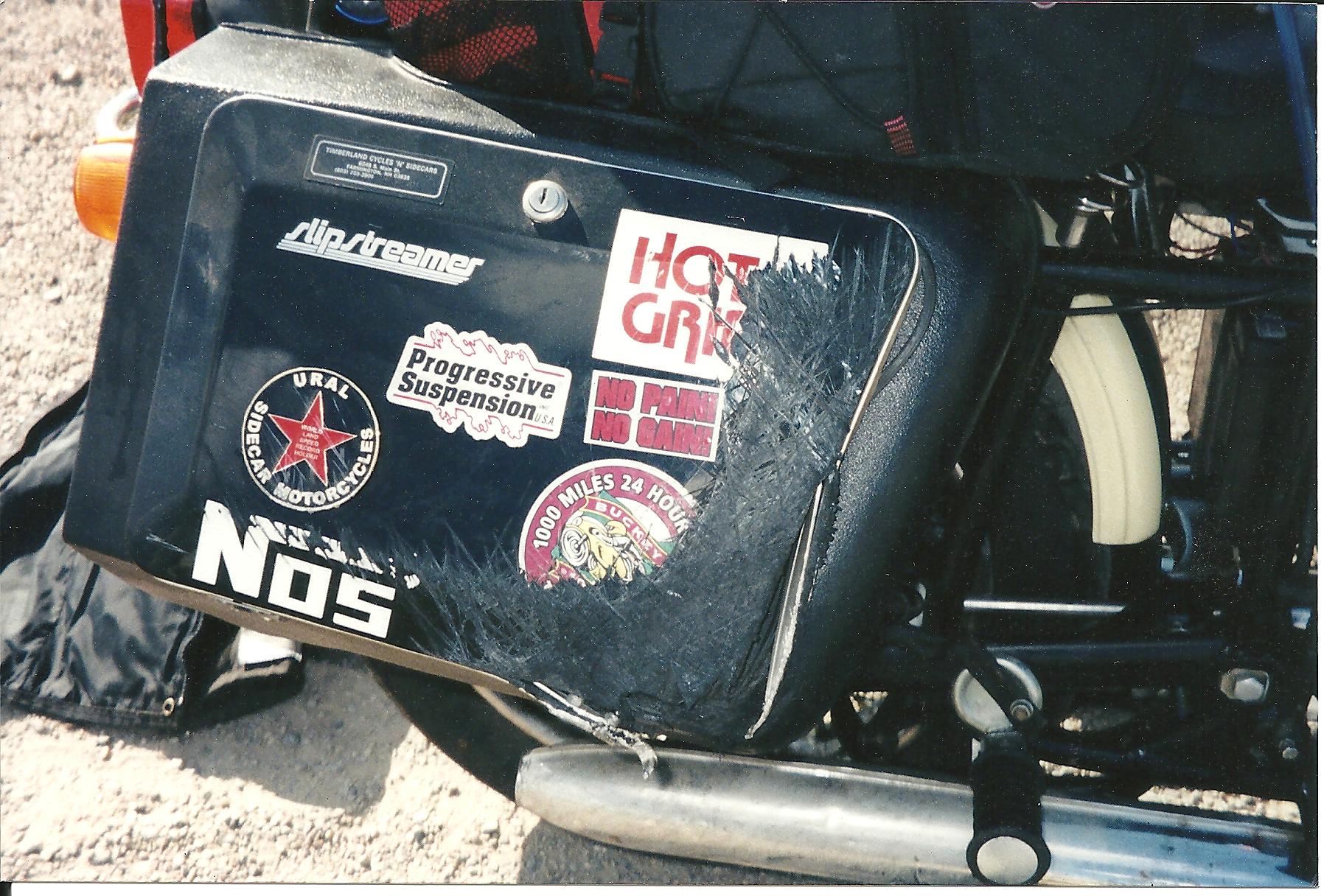 The Roadcrafter suit has sustained some abrasion, knees, hip, elbows, shoulders and holes in the pockets where items had been, but it was not at all tattered. I silently thanked God the creator that I was ok, then Andy Goldfine, the creator of Aerostich. Yes,…….. I think that was the order.
A couple days later, or, 30 or 40 breakdowns later, The suit was starting to get that "I'm a real rider" patina……………………..
I finished the rally without incident, but the suit had seen better days. The crash had made little tears here and there that eventually grew, and could be "grab" spots in the event of another crash; add in the 90 -100,000 miles I had abused it, and it was time for a new one.
I ordered a grey and black one piece suit, it would be easier to get on and off and would stay cleaner. I entered a bunch of rallies including the Buttlite III, as well as the 2003 Iron Butt Rally. By the end of 2003, it had seen close to 100,000 miles of hard use. It didn't skip a beat. These suits are the Swiss army knives of motorcycle gear! Every day, every night, every mile, like a good friend, it always had my back.
For the past 15 years or so, I have had the opportunity to wear some of the very best motorcycle gear made in the world. I have owned five or six sets of other gear, but it is the Aerostich quality, and comfort I always take when I'm on a mission. Having a zipper break or a lining pull apart in the middle of a rally or event can be more than just a nuisance. It can be dangerous. I have worn other high end ($400) summer pants that melted as soon as I put my feet down, where manufacturers should know the exhaust pipes might be on motorcycles! Riding a motorcycle safely is a mission, and having great gear that is darn near indestructible is the only way to go.
A few trips with my son, and of course being the dad, I had to let him wear the good stuff.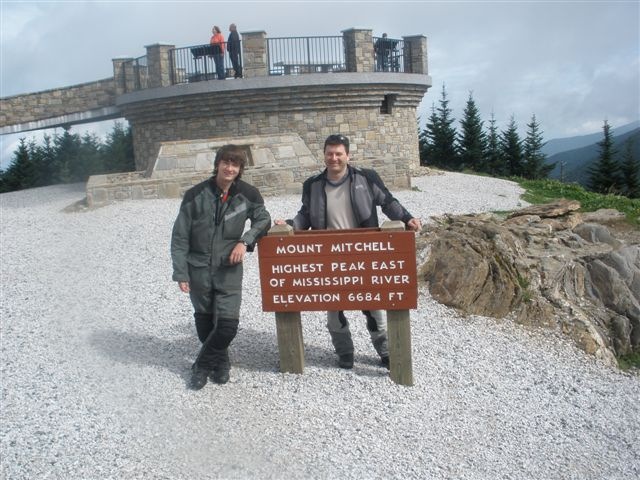 I also own a Darien jacket and pants set. Also made by Aerostich, the set is unlined and looser fitting than the Roadcrafter. Having two pieces makes it easier to stow away in your luggage, as well as being able to take off the jacket alone. Although it gets worn here and there, I really prefer the Roadcrafter for daily commuting and long distance travel. My Darien set will indeed last a lifetime, I may only wear it 8-10,000 miles a year.
To date, my grey Roadcrafter probably has 200,000 miles on it, and has seen duty on over 20 motorcycles. It is about 12 years old, and is starting to have some issues with wear, zippers and Velcro. So I have decided to delegate it to second string. Time to break in the new one, grey of course! The boots are my first stab at the Aerostich Combat Touring model, and will also need some breaking in. I have been a fan of SIDI leather boots and my last two pair were SIDI, but the regular street versions seem to be wearing out every 18 months. They have started to use vinyl uppers as well, and despite the claims of breathability and durability, I will never trust vinyl boots for real world riding. I was please to see that the Aerostich boots are actually made by SIDI, but are more the adventure style, heavy leather and of course, made to last.
Stitch and I
I have ridden in wind, fog, rain, snow, sleet, and hail;
I have ridden from sunrise, through day and night, to see the sun rise again;
I have ridden through hurricane and tornado warnings, washed out roads and wildfires;
I have ridden through every month of the year, in temperatures from 0 to 120 degrees;
I have ridden through all of the lower 48 states, Canada and Mexico;
I have slept in, pissed in, bled in, crashed in, laughed in, cried in and experienced the last 15 incredible years of riding motorcycles, almost exclusively in my Aerostich Roadcrafter suit.
No other gear I have ever worn comes even close to comparing to my 'Stitch' and as I write this, I am contemplating getting an Aerostich tattoo.
I will never get rid of my old Roadcrafter suit,
for like a well worn leather glove,
it's creases and impressions hold the secrets of my soul.
Any day you can ride is a good day,
Longhaulpaul