2013 RESULTS ARE HERE 
Springtime brings studying the motorsport catalogs to a slow drool and renewal of our primal urges, peeks in the garage or shed, charging the battery, swapping out the stale winter tire air for fresh seasonal stuff, and getting out for that first ride. The smell, the sound, the power; that permanent after-smile. Ahhh…………
Unfortunately, there is also yard work, spring cleaning, garage painting and aerating that brown lawn.
We offer you an excuse, A GOLDEN TICKET TO RIDE!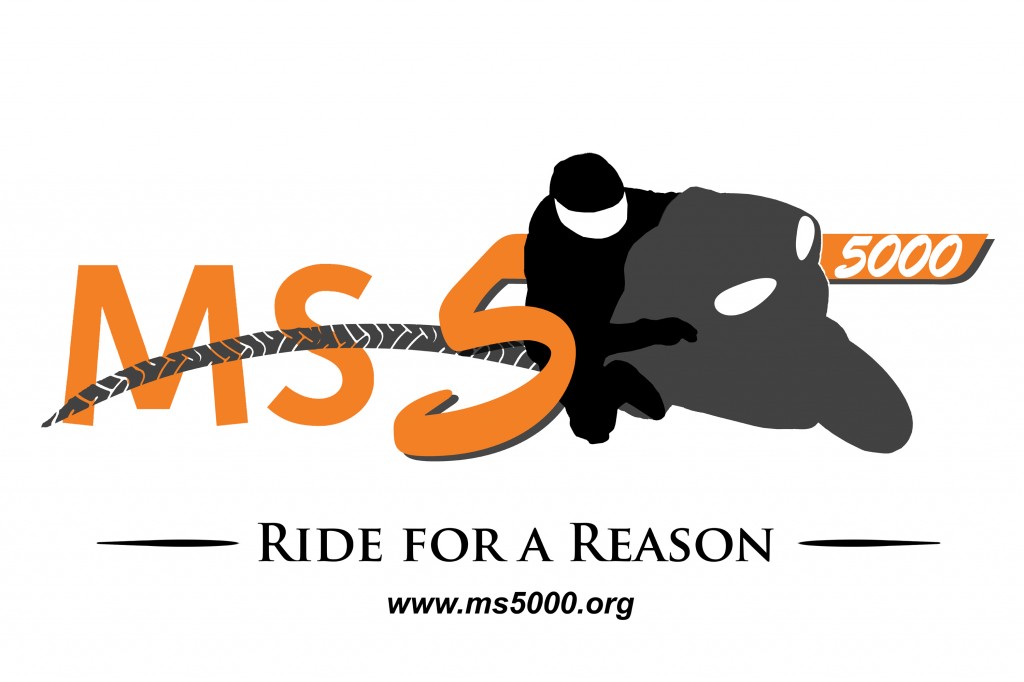 Welcome to the

MS

5000
The Annual  Motorcycle Fundraising Challenge for Multiple Sclerosis
Sure, you can walk for MS, and you can bike for MS, but if you are like us, you're a biker, not a hiker!
Could you possibly ride your motorcycle 5000 miles in 50 days?
Do you really need a reason to try?
To show your support, help raise funds for a cure and have some fun, we bring you the
MS5000 Motorcycle Challenge.
 PLEASE NOTE:
The inaugural 2013 MS5000 is over, a great successful fundraiser, 45 riders collectively rode 200,000 miles while raising $23,000 for Multiple Sclerosis. The MS5000 will be back for 2014, bigger, better and with more options to ride and more swag, stay tuned!
2013 RESULTS ARE HERE 
Attempt to Ride 5000 miles between April 1st and May 20th for MS
The MS5000 is a motorcycle challenge you can enter and ride from anywhere. If you finish that's great! If you don't, you'll better understand how living with the uncertainties of MS can get in the way of plans, trips, and daily life. MS is an autoimmune disease of the central nervous system. MS keeps people from moving. We need your help to find a cure now.
The MS5000 gives you a reason to ride your motorcycle 5000 miles in 50 days for a great cause.
The challenge can be completed at your discretion and the rules are simple.
Registered riders will attempt to document riding 5000 miles from April 1st  through May 20th.
The amount of miles each day doesn't matter, but to be considered a finisher and recieve a finishers certificate, the total documented miles have to be at least 5000 before midnight May 20th.
In 2014, Paul longhaulpaul Pelland, a former motorcycle long distance competitor will attempt to break the current long distance record of 31,000 miles in 31 days to raise awareness and much needed funds for MS research and programs. While Paul's ride is extreme, the MS5000 Motorcycle challenge was created so motorcycle riders across the country can join in Paul's goal of raising money for MS.
Each 2014 registered rider will get  a MS5000 T-shirt and a decal we hope you place somewhere visible on your bike to let your friends and family know what it is you are attempting and why.
Get involved, learn about MS and realize how tough every single day might be for someone with Multiple Sclerosis. Do your part to help find a cure.
Get out of yard work, get your friends to support you, be a hero to your family, all while riding your bike lots of great miles!
A Reason To Ride
Entering is a great start, but just like the MS Walk, the idea is to raise money for the MS Society.
Please encourage your friends and family to support your challenge to reach the 5000 miles by contributing to your fundraising page at the National MS Society's website.
By getting support and contributions you will then be in the run for the winner of the first MS5000.
The top fundraising rider who finishes the MS5000 and submits the proper paperwork wins the trophy and bragging rights, but actually the people with MS will win the most.
All of the contributions to the National MS Society website are tax deductible donations and will indeed make a difference in the 400,000 people in the USA who have Multiple Sclerosis.
Join Longhaulpaul as he attempts to make a difference in the lives of MS patients who face challenges on a daily basis as a patient advocate. Paul is also fighting for a cure so that he and others might someday go to bed without fear they may wake to find their ability to ride a motorcycle, drive a car, work, or even walk has been cruelly taken away.
Updates and rider standings will be posted here and on the National MS Society Fundraising Site, and registered riders will have access to a private group MS5000 Facebook page.
The MS5000 can be run during your regular commute, daily rides, weekend trips, or during other long distance rides or events. Any documented miles ridden by the rider during these dates will count. As long as each is documented appropriately, the mileage could be from multiple bikes. Each bike would have to have it's own fuel log and receipts. Mileage starts at the first fuel receipt for additional bikes. Any brand of motorcycle, scooter, or trike is welcome.
Rules for the
MS

5000 are HERE
Registration will open on March 1, 2014 HERE
Set up your donation page by clicking JOIN HERE to begin receiving contributions after March 1, however your mileage cannot start before April 1st.
List of Registered Riders HERE
2013 RESULTS ARE HERE 
Late Entries will be accepted until May 1st. Late entries start mileage on or after the entry date.
Non-riders can contribute to the event or individual riders at any time HERE.
From the National MS Society:
The National MS Society is a collective of passionate individuals who want to do something about MS now—to move together toward a world free of multiple sclerosis. MS stops people from moving. We exist to make sure it doesn't.
We help each person address the challenges of living with MS through our 50-state network of chapters. The Society helps people affected by MS by funding cutting-edge research, driving change through advocacy, facilitating professional education, and providing programs and services that help people with MS and their families move their lives forward.
Although not required to enter or to be a finisher, the spirit of this event is to assist Paul in his quest to ride one million miles as a MS advocate, raising awareness and funds, while helping others with challenges recalculate their life's road. Your fundraising contributions and efforts go directly to the National MS Society.
Please contact Rally Master with any questions.
Thanks to the 2013 MS5000 sponsoring partners: