2016 
MS

5000 Results HERE

                Springtime brings studying the motorsport catalogs to a slow drool and renewal of our primal urges, peeks in the garage or shed, charging the battery, swapping out the stale winter tire air for fresh seasonal stuff, and getting out for that first ride. The smell, the sound, the power; that permanent after-smile. Ahhh…………

Unfortunately, there is also yard work, spring cleaning, garage painting and aerating that brown lawn.
We offer you an excuse, a

GOLDEN TICKET

TO RIDE!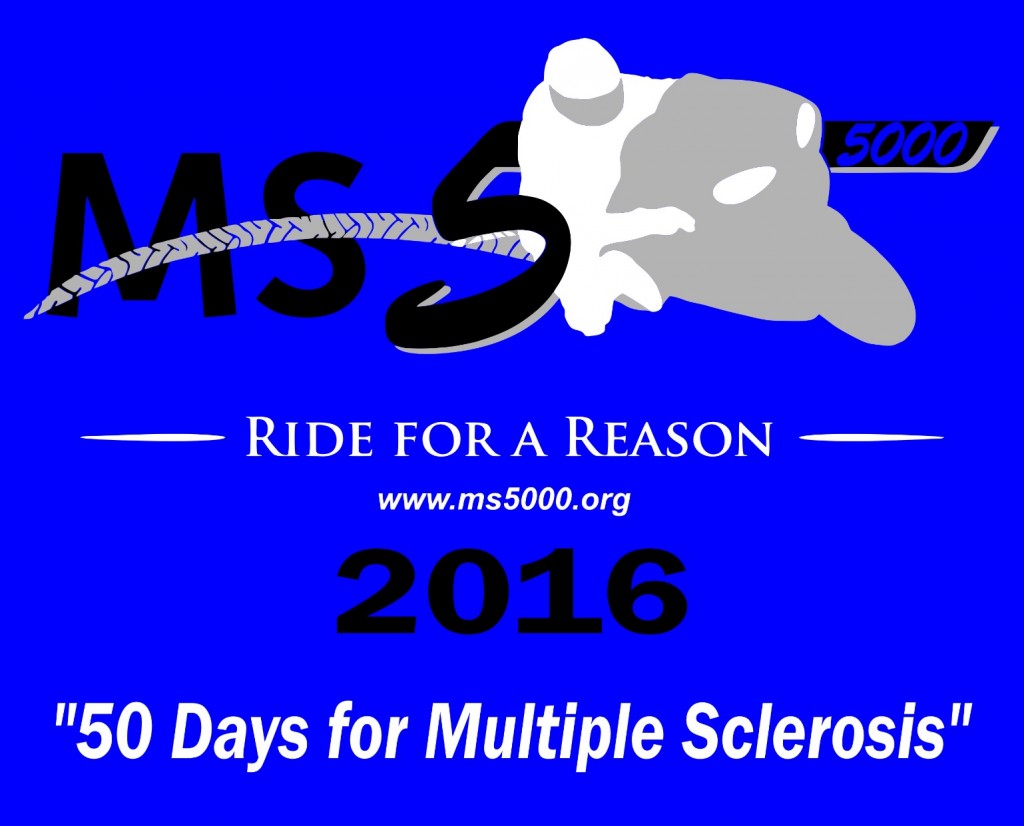 Welcome to
Longhaulpaul's
MS

5000
The Annual Motorcycle Fundraising Challenge for Multiple Sclerosis
The Reason I Ride
by Longhaulpaul
MS stops people from moving. Multiple Sclerosis is an autoimmune disease affecting the central nervous system. It slows or stops the brain from sending out messages to the rest of the body. It is progressive and unpredictable. Although there are new treatments to slow the damage, currently there is no cure. MS gets in the way of plans, tasks and everyday life. I cherish every morning I am still able to ride my motorcycle or even walk. Lots of folks living with MS do not start each day so lucky. As I deal daily with my MS symptoms of weakness, memory loss and fatigue, I often find myself unable to finish tasks I started or even remember what I had planned to do. With that in mind, I cordially invite you to join me for the…..
 2016

MS

5000 Motorcycle Challenge
"Ride Harder or Raise Smarter"
"Because it isn't always about the miles"
To be considered a finisher, riders must achieve a minimum of 5000 points by combining miles and donations between April 1st and May 20th, 2016
MS

5000 Points Scoring
Earn 1 point for every mile ridden

Earn 10 points for every dollar raised

5000 points or more  to be a Finisher

10,000 points or more to be a

Silver

Medalist

15,000  points or more to be a

Gold

Medalist

20,000 points or more to be a

Platinum

Medalist

Rider earning the most points wins!

Minimum of 1000 points must be donations ($100)

Minimum of 1000 points must be miles. (1000 miles)

After minimum is reached, any combination can be used!

Ride Harder or Raise Smarter!
DONATE to this year's Riders  HERE
Rules are HERE
Registration February 1- March 31 (Ended)
Rider's Only Page HERE
Facebook Group Page HERE
The MS5000 is a motorcycle challenge you can enter and ride from anywhere.
The MS5000 gives you a reason to ride your motorcycle as much as you can in 50 days for a great cause.
The challenge can be completed at your discretion and the rules are simple.
Registered riders will document riding as many miles as they can from April 1st  through May 20th while collecting support from family and friends.
Each registered rider will get  a MS5000 T-shirt and a decal we hope you place somewhere visible on your bike to let your friends and family know what it is you are attempting and why.
Get involved, learn about MS and realize how tough every single day might be for someone with Multiple Sclerosis. Do your part to help find a cure.
Get out of yard work, get your friends to support you, be a hero to your family, all while riding your bike lots of great miles!
Ride For A Reason
Entering is a great start, but just like the MS Walk, the idea is to raise money for the MS Society.
Please encourage your friends and family to support your challenge to reach the minimum 5000 points by contributing in your name.
Score the most points by combining miles and fundraising and you will be the winner of the 2015 MS5000.
All of the contributions to the National MS Society website are tax deductible donations and will indeed make a difference in the 400,000 people in the USA who have Multiple Sclerosis.
Join Longhaulpaul as he attempts to make a difference in the lives of MS patients who face challenges on a daily basis as a patient advocate. Paul is also fighting for a cure so that he and others might someday go to bed without fear they may wake to find their ability to ride a motorcycle, drive a car, work, or even walk has been cruelly taken away.
Updates and rider standings will be posted here as well as the now public group page on Facebook.  Registered riders will have access to a Rider's Only MS5000  page to upload their receipts.
The MS5000 can be run during your regular commute, daily rides, weekend trips, or during other long distance rides or events. Any documented miles ridden by the rider during these dates will count. As long as each is documented appropriately, the mileage could be from multiple bikes. Each bike would have to have it's own fuel receipts. Mileage starts at the first fuel receipt for additional bikes. Any brand of motorcycle, scooter, or trike is welcome.
 2016

MS

5000
"Ride Harder or Raise Smarter"
 Please contact Rally Master with any questions.
A word from the National MS Society:
The National MS Society is a collective of passionate individuals who want to do something about MS now—to move together toward a world free of multiple sclerosis. MS stops people from moving. We exist to make sure it doesn't.
We help each person address the challenges of living with MS through our 50-state network of chapters. The Society helps people affected by MS by funding cutting-edge research, driving change through advocacy, facilitating professional education, and providing programs and services that help people with MS and their families move their lives forward.
The spirit of this event is to assist Paul in his quest to ride one million miles as a MS advocate, raising awareness and funds, while helping others with challenges recalculate their life's road. Your fundraising contributions and efforts go directly to the National MS Society.
 ______________________________________________________________________________
MS

5000 History

I planned to break  my second world record April 1st, 2013.  As a fundraiser, I wanted to  attempt document riding 50,000 miles in just 50 days. The world record as it stands is 31,000 miles in 31 days, set by former state Senator David Zien. My personal IBA documented 1000-mile days in a row was 10. For a 50-day ride, I realized unless I died or crashed, nobody would pay attention to what I was doing after the first week, and it was supposed to be a fundraiser.  So, I decided to start a motorcycle fundraiser to run alongside my record attempt to keep people interested, raise awareness and funds to benefit the National MS Society.  Sometime in March of 2013, I was informed I would no longer be employed if I took off the seven weeks needed to break the world record. Although I had saved up two years vacation time (4 weeks), unpaid leave was not allowed.  I also had hoped for a bit more support from a motorcycle manufacturer, fuel sponsor and hotel chain. I did not get what I needed, and there was no physical or financial way I would have been able to complete the attempt. I had to call it off.  However, with the help of riders and friends across the country, we did end up with quite an amazing fundraiser event, and the MS5000 was officially born! Have no doubt, I  still have every intention of breaking that record, and with the right backing falling into place, I will be attempting it in the very near future.  — Longhaulpaul
2015
MS

5000 Results
 Paul's INSANITY SCOOTER 1000 page HERE
Congratulations and thank you to every rider whether a Participant, Finisher, Silver Medalist, Gold Medalist or Platinum Medalist. Special thanks to Sunoco and Global Partners for donating $1500 in gas cards to the event. $33,000 was raised!
2013
MS

5000
The year of the "non-stick stickers"
I ordered decals for the event. Two weeks after promised, the printer shipped me 500 removable decals. They fell off my notebook, never mind expecting them to attach to motorcycles through wind, rain and high speeds! I really didn't think I needed to specify stickers needed to stick, after all, stick is part of the word! After fighting back and forth for a month, I never did get better stickers or my money back. These original white stickers are now highly collectable, and have been seen blowing off motorcycles across the country, even while they are standing still.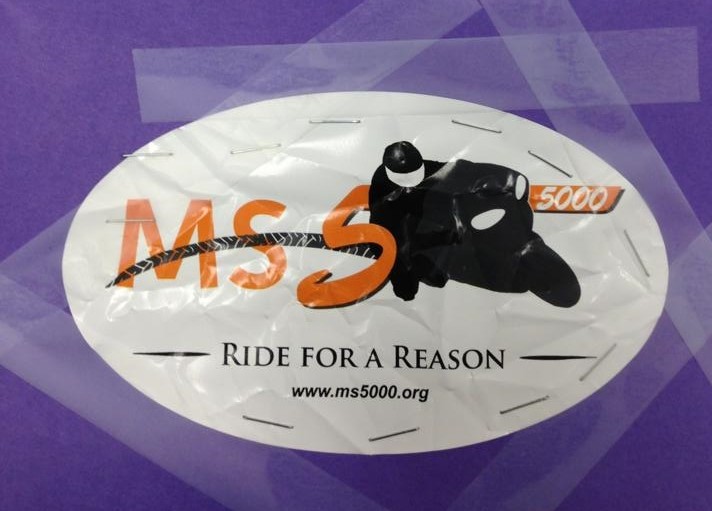 Thanks to Bill Mayer Saddles, the 2013
MS

5000 sponsor: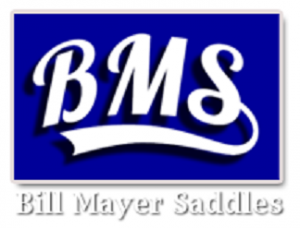 The inaugural 2013
MS

5000 was a great successful fundraiser,
45 riders collectively rode 200,000 miles while raising $23,000 for
Multiple Sclerosis.
2013 RESULTS ARE HERE