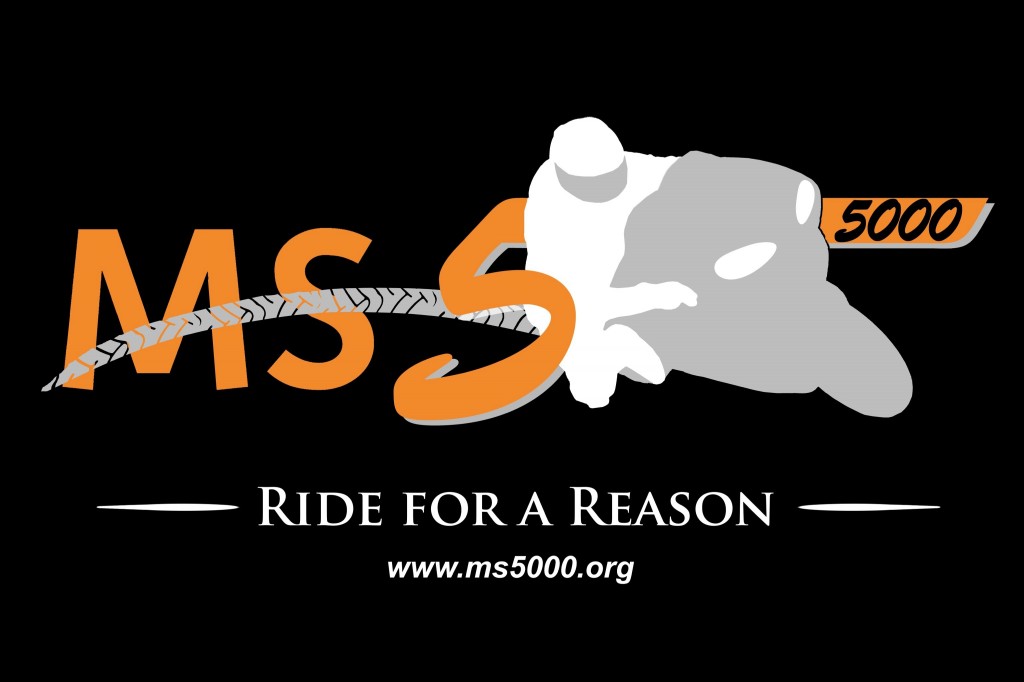 2017 

MS

5000
"Ride Harder or Raise Smarter"
  

RULES
Register between March 1 and March 31, 2017
Registration will be available at Ride Master after March 1st and will remain open until March 31st.
Registration fee is $30, which includes an MS5000 T-shirt, decal, awards, and postage.
Please note: All shirts will be custom printed and mailed once registration closes on March 31st. Decals may be shipped sooner. 
Your registration confirmation email will have the password needed to access to the Rider's Only page which gives you access to enter your starting and ending mileage.
 RAISE
All Donations go through a single MS5000 group page on the National MS Website.
Donors must first fill out the simple donation pledge Donation Page which then sends them to a secure payment page at the National MS Society's website.
Donations must be paid by Credit Card. 
Once donor pledge form is matched with a confirmation of payment received, the rider will receive credit.
Registered riders outside the United States may collect donations for a MS charity in their own country. (Contact me)
Every dollar you raise equals 10 points.
In order to be considered a finisher, 1000 of the required 5000 points must be from donations.($100).
Donations can be collected as soon as you have registered for the MS5000; anytime after March 1st.
Please allow 24 Hours for your name to appear on the Donation Pledge page.
Donation deadline May 30th.
 RECORD
Record your starting  mileage  April 1, 2017
Simply document your starting mileage any time after 12:01 AM EST April 1st by obtaining a dated gas receipt.
Record your exact mileage right on receipt, then submit your starting mileage to the form located on the  Rider's Only  page.
If you switch bikes or have a second bike, you must submit a starting form for that bike as well.
After submitting the starting mileage form, riders are encouraged to take a picture of the receipt and their actual bike's odometer and post it on the MS5000 Facebook page.
KEEP ALL RECORDS! Riders are responsible for keeping copies of their starting and ending mileage receipts.
 RIDE
Ride at your discretion, as many miles as you can between  April 1, 2017 – May 20, 2017 
The MS5000 can be run during your regular commute, weekend trips, or during other long distance events.
Any documented miles ridden by the rider during these dates will count.
Any brand of motorcycle, scooter, or trike is welcome.
Get your friends involved, ride as a group, go on an epic trip or extreme ride!
Please post your experiences and updates on the ms5000 Facebook page.
REPORT
Get your last gas receipt and mileage before 11:59 PM EST May 20th
The ending receipt must have correct DATE and TIME.
Record exact mileage right on receipt.
 Submit your MS5000 Final Mileage Form found on the Rider's Only page.
If you rode more than one bike, you must submit a form for each bike separately.  
All final mileage submissions MUST be entered by May  25th to be scored.
Any items received after May 30th will not count towards awards.
Email the rally master with any issues.
NO MILEAGE MINIMUM this year. $100 minimum required in donations.
REWARDS
On or before June 1st, MS5000 Results will be posted! Awards and certificates will be mailed as soon as results are finalized.
2017 
MS

5000 Points Scoring
Earn 1 point for every mile ridden

Earn 10 points for every dollar raised

5000 points or more  to be a Finisher

10,000 points or more to be a

Silver

Medalist

15,000  points or more to be a

Gold

Medalist

20,000 points or more to be a

Platinum

Medalist

Rider earning the most points wins

Minimum of 1000 points must be donations ($100)

No minimum mileage this year

After minimum is reached, any combination can be used

Ride Harder or Raise Smarter
Included with your $30 entry fee
Registration as official rider
MS5000 T-shirt
MS5000 decal for your motorcycle
Chance of finishers certificate
Chance at trophies or awards
Chance to ride your motorcycle while helping others
A Reason to Ride…. a lot!
Contributions made to the National MS Society through the MS5000 Event go directly to the National MS Society. Donations to the Society qualify as tax deductions. The money raised will be used to research for a cure as well as to fund patient programs and services.
The MS5000 entry fee is used to offset the costs of this event, T-shirts, decals, awards, certificates, promotion, printing, and mailing. The entry fee does not go to the National MS Society, and is not a tax deductible donation. Any excess monies collected from registrations after all expenses are paid may be used to offset next year's MS5000 or donated to the MS Society.
These rules are subject to change.
Please contact Rally Master with any questions!